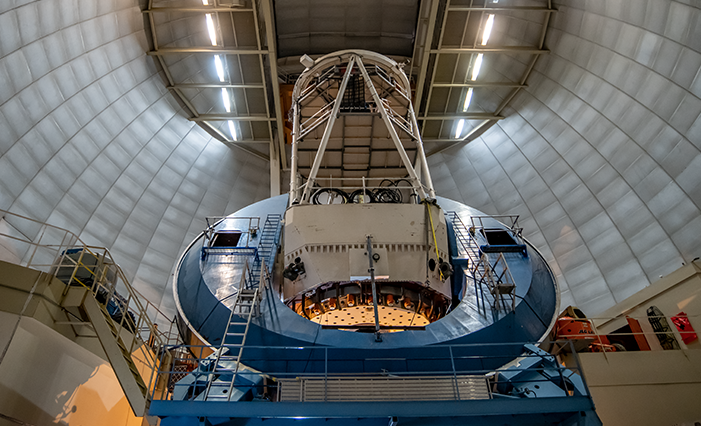 DESI seeks to map the large-scale structure of the universe over an enormous volume and a wide range of look-back times (based on "redshift," or the shift in the light of distant objects toward redder wavelengths of light). Targeting about 30 million pre-selected galaxies across one-third of the night sky, scientists will use DESI's redshifts data to construct 3D maps of the universe.
The DESI survey is based on four primary classes of galaxies, here described in order of distance from us:
DESI will provide a detailed map using bright galaxies, stretching out to redshift 0.4 and including galaxies to 20th magnitude. These objects are bright enough to observe when the moon is near full. While these are the easiest targets, they are still of high value because they probe the universe most recently, when the accelerating expansion is strongest.
Next, DESI will use luminous red galaxies (LRGs). These are the most massive galaxies, composed largely of old stars. They can be seen at substantial distances and their red color makes them easy to select in imaging. With them, the survey will reach redshift 1.
The largest sample in DESI relies on emission line galaxies (ELGs). These are fainter and more distant, but their vigorous star formation and hot young stars create strong emission in distinct wavelengths that DESI can detect out to redshift 1.6.
To go yet further, DESI will survey quasars. These are galaxies where the central supermassive black hole is accreting large amounts of gas that is glowing as it reaches relativistic speeds. Quasars outshine the stars of the galaxy and achieve luminosities that allow DESI to detect them out to redshift 3.5 and beyond.
An important extra application of the quasars is that their spectra is altered by the light traveling through the intergalactic gas between the quasar and us. The neutral hydrogen in this gas produces absorption at a key wavelength in the ultraviolet (121.6 nanometers), and that absorption pattern gets shifted into visible wavelengths due to the very high redshift of the gas. This produces a so-called Lyman-alpha forest and means that each quasar spectrum not only reveals its location in the map, but also a map of the intergalactic hydrogen along the line of sight.
Finally, DESI will observe stars in our own galaxy, adding to our understanding of the chemical abundances and gravitational dynamics of the Milky Way, particularly to help our study of the role of dark matter.